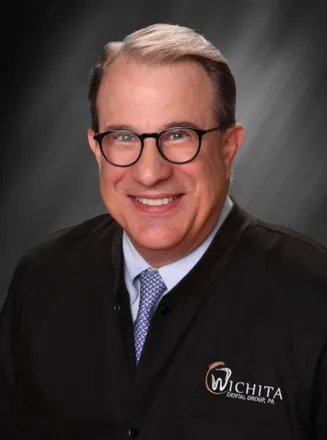 About Dr. John Lewis
Upon completing his professional training at the prestigious Northwestern University Dental School in Chicago, Dr. John Lewis returned to his hometown of Wichita to join the practice of friend and mentor Dr. Tonk Mills. He and his wife Wanda live in Andover; they have three adult children and an active German Shephard dog. Dr. Lewis enjoys traveling, Western landscape art, tent camping, and reading books on the topics of history and biography.
Skills
Following the team approach of the Mayo Clinic, Dr. Lewis practices the two philosophy's of Comprehensive Care (evaluating the healthy function of the entire oral system) and Integrated Care (serving as managing doctor in bringing together dental specialists as needed for the optimized overall treatment of his patients). Passionate about his professional craft as being both advanced dental science and beautiful creative art, Dr. Lewis offers restorative, cosmetic, and general dental care for the entire family. He also offers children's dentistry, where he uses his gentle, patient, and compassionate nature to help children and parents feel at ease during procedures.
Awards and Honors
The Wichita Business Journal has recognized the Wichita Dental Group, PA as the honoree for "The Best Places to Work in Wichita" (2007), and Inter-Faith Ministries selected Dr. Lewis as a recipient of "Leadership Through Faith" Humanitarian Award (2015).
The University of Minnesota School of Dentistry has invited Dr. Lewis to be a guest lecturer on the topics of patient care, team building, and practice leadership. Dr. Lewis has been an adjunct instructor and lecturer in the post-graduate dental residency program of Wichita State University. He also actively mentors and shares his dental expertise in the Health Science Program of Friends University as their students rotate through clinical internships.
Life-long Professional Education
Believing that "no professional person has the right to be other than a continuous student" Dr. Lewis travels extensively to attend courses taught by the nation's leading clinicians so that he might incorporate advanced knowledge and techniques into the care of his patients.
As a member of national dental study clubs, Dr. Lewis enjoys sharing his knowledge with his professional colleagues in Wichita, and his dental practice teammates. He believes that enhancing the quality of dental care in Wichita raises the total quality of life in Kansas.
Volunteer Work
Dr. Lewis is committed to bettering his community by donating time as:
President-Elect of the Wichita District Dental Society
Past-Chair and Trustee of Friends University
Kansas Mission of Mercy - the Kansas Dental Charitable Foundation
The Good Samaritan Clinic of World Impact Ministries
Boy Scouts of America as both a father and Scoutmaster
Insurance's in network with:



---