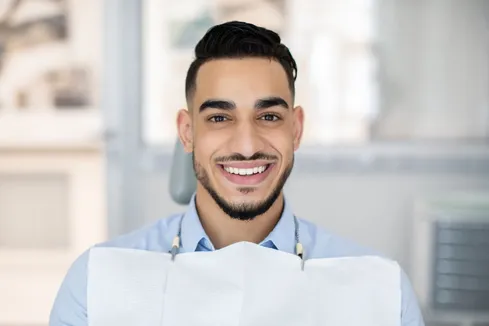 Cosmetic Dentistry in
Wichita, KS
We know how important it is to have a smile that you are proud of, which is why at Wichita Dental Group we not only provide a full range of cosmetic dentistry services to meet everyone's unique and personalized needs but we also provide the highest quality restorations possible to make sure that you are always happy with your results when you leave our Wichita, KS dental office.
So, you might be wondering what our dental team here in Wichita, KS can do for you when it comes to cosmetic dentistry. First of all, we offer over 30 years of dedicated and customized cosmetic, restorative, and general dentistry to patients in the Wichita, KS area. When you come into our office for a consultation, Dr. Lewis and his dental staff will always take the time you need to not only choose the cosmetic dentistry that will best meet your needs but that you also fully understand the treatment process before it happens.
We don't believe in rushing our patients when it comes to getting the smiles they want. We know that most people aren't born with the perfect smile, but our goal here at Wichita Dental Group is to give you that dream smile. With our full range of cosmetic dentistry services, we know that we will be able to sculpt, craft and create the smile you've always wanted.
Here are just some of the cosmetic dentistry options we have to offer at our Wichita, KS dental office:
Dental Bonding
Tooth Reshaping/Contouring
Gum Reshaping (for uneven or "gummy" smiles)
Whether you are looking to make small tweaks to the color or overall shape of your smile or you are contemplating a full cosmetic makeover, our Wichita dental team is here to make sure that cosmetic dentistry fulfills your smile goals. We can work with you to provide you with the quality, customized treatment or treatments you need to get that straighter, whiter and more attractive smile.
Are you ready to talk to our dental specialists about cosmetic dentistry?
If so, then it's time to call our Wichita, KS, dental office today at (316) 265-0849 .