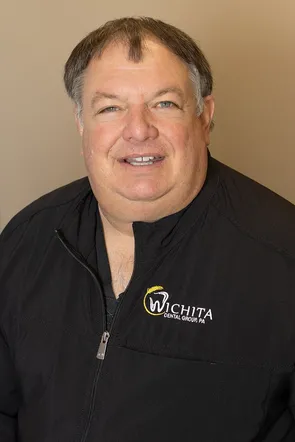 Dr. Jon M. Woodruff grew up in Central Missouri with two brothers -- he is the creative "middle child". After graduating from Wheaton College (IL) with a B.S. in Biology, he earned his Doctor of Dental Surgery degree from the University of Missouri at Kansas City (UMKC) School of Dentistry in 1992. Relocating to Wichita, he practiced with Dr. Paul Wright for 3-years, purchased a dental practice in 1995, and in 2007 developed a new office as a founding member of "The Collective" at 21st Street East and Founders Circle. In 2022, he merged his busy practice with the Wichita Dental Group and enjoys practicing with his friends Dr. John Lewis and Dr. Paul Lewis.

Dr. Woodruff has been involved in various church groups and in mission leadership. For several decades, he has been blessed to travel the world on dental mission trips (India, Uganda, Ecuador) where he helps people that do not have access to dental professionals. He attends national mission-related conferences, sharing and learning new techniques, and is now planning future trips overseas to help others. With friends and his two brothers, Dr. Woodruff hunts and fishes, spends time outdoors, and enjoys time gardening and growing vegetables -- a love
he learned from one of his grandmothers. When not outdoors, Dr. Woodruff has been in a book group with Dr. John Lewis for more than 25 years.
Insurances in network with: